CvT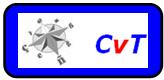 The Terminology Centre (CvT) is active within the Department of Translation, Interpreting and Communication of Ghent University. The CvT co-ordinates the Department's activities on terminology and terminography.
These activities relate to teaching, research and services.
The CvT's staff is drawn from the Department's language sections and the language technology section.
The CvT operates as a unit within the research group LT3 the Department's Language and Translation Technology Team. Whereas most other research within LT3 is related to tools development, the CvT focuses on the use of tools for terminology management, term recognition, term extraction etc. and on the manual compilation of termbases.
Core Members
Associate members